Profile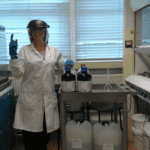 Ruth Patchett
Next chat soon!
Curriculum Vitae
Education

University of Warwick (2012-2016), Imperial College London (2007-2012), Cardinal Newman College (2004-2006), Ulverston Victoria High School (1999-2004)

Qualifications

I did 12 GCSEs including Drama, French, German, English, Maths and Science I did A levels in Chemistry, Biology, English Language and an AS in Maths I have an MSci in Chemistry (with a year in industry) PhD in Chemistry .

Work History

Education Coordinator for the Royal Society of Chemistry 2016-2018 My job was to help science teachers across the Midlands. I shared experiment ideas and helped them organise training. University of Warwick-Laboratory demonstrator 2013 - 2015 I kept Unviersity Students safe in the labs as they carried out experiments Firmenich-trainee scientist 2010-2011 This is one of the coolest jobs I have ever had. I worked for a company that made artificial fragrances for things like perfumes and other products like washing powders, cleaning products. Care Assistant 2007-2012 All through University and slightly before I worked as a care worker. I worked in a nursing home and doing home care for mostly elderly people. I got to meet some really amazing people including a woman who was a spy during the second world war.

Current Job

I work at the University of Birmingham in the School of Chemistry

Employer
Favourite thing to do in my job: I get to work with loads of different researchers and learn about their work.

About Me: I work in outreach at the University of Birmingham, this means my days normally involve getting researchers out of the lab and into different schools to do experiments!

Read more

I live in Birmingham with my partner and our cat. I spend a lot of my time doing my work but I also like to be busy so have a lot of hobbies, I like to read books and do gardening and am currently experimenting with growing my own vegetables.

II like watching films and reading books (my favourite authors are Roald Dahl, Sue Townsend and Alan Bennett). I also love to bake and watch baking shows.

I am really interested in making science available for the biggest variety of people possible. We need lots of different people with different ideas to invent new things and some up with new ideas to fix a lot of the challenges we face in the world around us. I try to talk to people who might not think they like science or people who might think that science isn't for people like them. We have designed experiments for people who are blind or partially sighted and try to teach science to people who have had a tough time so may not be so well in school. We have even been to a nursing home to talk to people over 80 about science.

My pronouns are she/her.

My Work: I work at a University bringing real-life science research into schools. I design experiments and bring them to schools for students to try out - along with some researchers. We do experiments about plastic, DNA, batteries...

Read more

I work in the University of Birmingham in the Chemistry department. It is my job to help people who do research to talk to other people about what they do and explain why it is important. It's a great job and I get to do all sorts of things and meet new people all the time which I love.

We sometimes go into libraries to do experiments, or museums as well as schools. I have even gone into a nursing home to talk to the residents about what we do so I have actually taught science to children as young as 3 and adults as old at 80!

My Typical Day: I usually get woken up by the cat meowing for her breakfast at about 7 am. After I have got ready I start work around 9, like a lot of people I am working from home at the moment. So I usually have a few video calls with different students and video calls talking about new experiments or resources we want to get online. I then get to spend some time making new web pages with the videos or experiments we have made together. Sometimes I test the experiments out at home to make sure they work and that the instructions are clear for people to follow at home. I usually finished work around 5 or 6 and I try to get out either in the garden or for a walk while it is sunny and so I can get my brain out of "work mode". When I am not working at home I get to go on all sorts or trips to primary of high schools, doing workshops in libraries or fields and festivals. Hopefully before too long we will be out and about again!

Read more

My favoutrite thing about my job is that there is no such thing as a "typical day". I sometimes work on our website, or talk to researchers about what they do in the lab and help them describe it to other people, we did a project where we designed brand new experiments that use smell and taste so that they would be more interesting for students who are visually impaired. We even got to go to the Science Museum in London a few times to make slime with the visitors!

What I'd do with the prize money: Do some demos/talks in the local community

Read more

I'd really like to put on some small events in the local community that are open to people who do not normally get a chance to learn more about science. There are a few local groups that I'd like to get involved in and offer something to. School is such a wonderful place to learn about science and if you are on here you are lucky enough to have enthusiastic teachers who want to expose you to science in all sorts of ways! I don't think other people are so lucky, I would love to root out some of these people in my local community and show them why I think science is fun (hopefully involving some noises, gunge, fart references and help from my universities outreach team!).

My Interview

How would you describe yourself in 3 words?

Imaginative, busy and noisy.

What or who inspired you to follow your career?

I don't remember when I decided what I wanted to do but owe it all to my parents who have always been encouraging with all of my interests.

What was your favourite subject at school?

English and Drama

What did you want to be after you left school?

An actress

Were you ever in trouble at school?

Sometimes for talking and being loud with my friends :/

If you weren't doing this job, what would you choose instead?

A teacher

Who is your favourite singer or band?

The Beach Boys

What's your favourite food?

Thai curries or chocolate

What is the most fun thing you've done?

I did a chemistry lecture for 1,000 people! I got to set fire to things and do other experiments on a stage.

If you had 3 wishes for yourself what would they be? - be honest!

I would love to have the ability to stop time-there are never enough hours in the day! I would also like to be able to sing and catch all 151 original pokemon.

Tell us a joke.

What's it called when the Queen of England farts? A noble gas.
---
---